yamaedit on November 25, 2020
---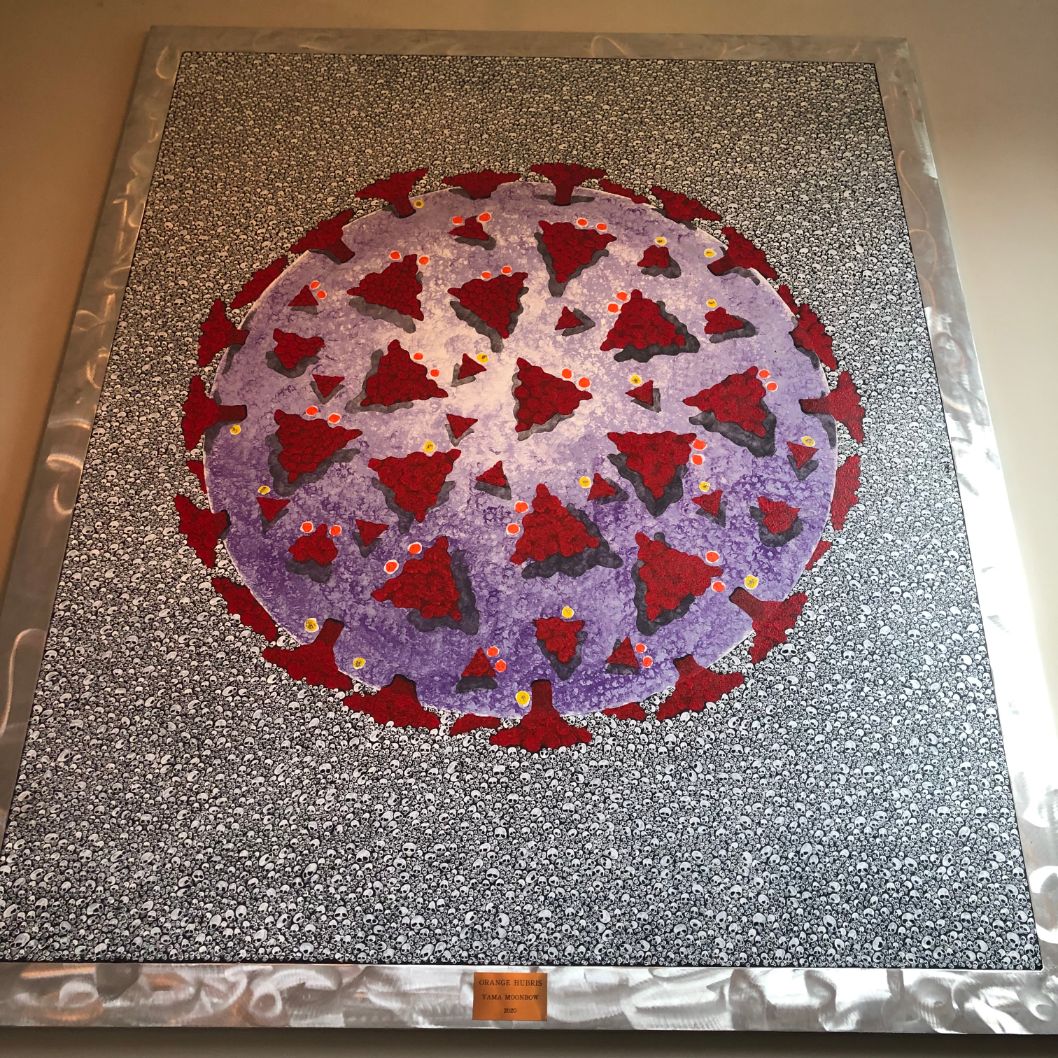 It has been more than a year since my last blog post. My handler and business partner insisted on me remaining silent concerning politics as not to alienate anyone from joining our program. Unless a person has been in a coma the polarization that has occurred over the last year has been legendary. Science has become superstition, belief has turned to fact and conspiracy theories abound being attracted or repelled by the political forces of red and blue. The rhetoric initiated vitriol displayed in the mainstream media and social media would have drowned out anything I could have added. Keeping my mouth shut was probably a good idea.
Stifling my voice from any topic is met with a great deal of difficulty. I normally have something to say about most issues. Needless to say, I now have a lot to talk about.
The one thing that my handler did not compel me to do is stop creating art. As an artist I scream at the top of my lungs with brush and paint, hammer and chisel, metal and flame to send my message to the world. My ultimate goal is to create that one piece of unique artwork that awakens people just by the sight of it. In the meantime, I hope to produce works that make people feel my voice and discover emotions larger than themselves at a glance. It has been a busy year where my art is concerned, 16 new pieces in all. There is one that has stood out.
I started by making a small painting, 29" x 29" as a present for my daughter's birthday. It looked good while making a statement so I did the next best thing and decided to make the same painting but much larger, 8'2" x 6'10". I was told that such a task was crazy and would take at least a year to complete.
The entire piece took just two and half weeks to finish. I began with grinding the frame to give it a fresh look, stretching the canvass while bolting it to the frame, painting the virus and completing it with more than 15,000 detailed skulls.
I had no idea that I painted so many skulls; at most I guessed that I may have painted up to 2,000. I spent the better part of those two and half weeks in the zone. I would get up at 3:00 am, climb the ladder and begin painting skulls. At 6:00 pm I would have dinner, go to bed at 10:00 pm and repeat the cycle. In the blink of an eye the whole painting was complete.
Upon completion, family, friends and neighbors that viewed the piece exclaimed that it needed to be in a public venue and not entombed to one of the walls in our house. After a few weeks of searching, I stumbled upon an exhibit for social and politically engaged art, The Fletcher Exhibit. I followed the guidelines and submitted photos to join the juried exhibit. It was accepted and has been on display since October 5th at the Reece Museum located at East Tennessee State University. On November 5th the awards ceremony was posted online, the various artwork receiving awards was so impressive that I thought mine did not stand a chance of recognition. To my surprise, my piece was awarded "Best in Show."  Award presentation is at the end of this video:
2020 FL3TCH3R EXHIBIT Award Ceremony
What does this have to do with our program? This last year and further back has shown us how distorted, twisted, contorted and perverted reality can be manipulated. If reality were personified she or he would have experienced being placed in more positions than contained in the Kama Sutra in the last year. There are no limits or parameters while dealing with perception, which is often mistakenly called reality. Reality is defined by something that is fixed and immovable, that has not existed over the last four years. What has previously been called reality has been stuck in a continuous dark swirl of emotionalism, sensationalism, hormonalism egged on by opinion, belief and judgements all of which have been called facts. What you have witnessed and endured is the worst of the worst that perception has to offer.
The election is over, 2021 is on the horizon, vaccines are nearing completion and invitations of normalcy await attendance in the new year. This is the year where you can awaken to those fixed and immovable pillars within you that will provide stability and anchor for any future storms that arise. This is the year where I will not remain silent and this is the time for you to realize that you are that unique piece of artwork that can awaken and enlighten a path through any darkness.